Finished ware - decorated thimbles, giftware, mugs, beakers, plates, bowls, etc in bone china, with your designs
Enquiries:
Tel:
(from UK) 07788 546 441 / (from overseas) +44 7788 546 441
E-mail:
eileen@eileenhallam.co.uk
Eileen Hallam now represents 4 manufacturers / suppliers of whiteware - made in Stoke-on-Trent, Worcestershire, or in the Far East, which can be supplied decorated with your designs. (See Help with your artwork below if your artwork is not ready to go.) Here are some examples:
Decorated mugs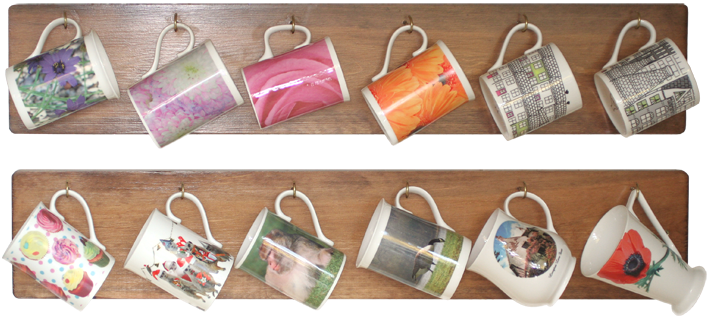 A wide variety of mugs is available. Stokie mugs (top right) courtesy of Lee Baker (digitally printed decals on Balmoral mug - see Ceramic decals and White bone china mugs).
*** New for 2016 - Bone china dog and cat bowls, made in Stoke-on-Trent, Staffordshire, with your pet's name in pink, red, blue, green, black or 22 carat gold or platinum.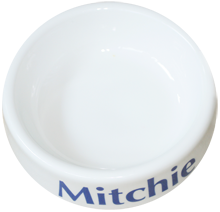 ** New for 2016** Dog or cat bowls, hand-made in Stoke-on-Trent
For the pampered pet - available in 2 sizes: Large = 19cm diameter at the base & 17.5cm diam at the top x 5.5 cm tall; Small = 150mm base & 140mm top x 40mm high. Your pet's name in a choice of 5 strong screenprinted colours: pink, red, blue, green or black. Also available printed in 22% gold or platinum, for the especially discerning pet.
Decorated thimbles

Decoration with screenprinted decals, as well as digital decals, also available where required
Help with your artwork
Sometimes, you may have beautiful artwork which is not in a suitable format for decorating a mug or plate, etc. We can often help with your artwork. You do not necessarily need to supply artwork in a ready-to-go format. Here is an example of what we can do for you.
We can take your artwork from this:
...to this...
.....to this.....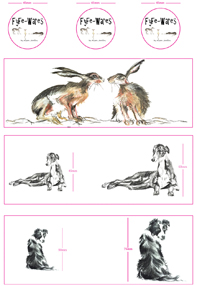 ....and turn it into this....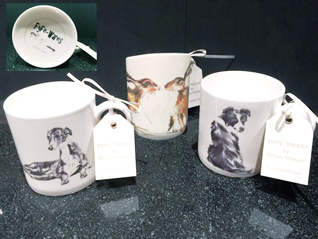 For more information and a quotation, please
contact us
.
Greyhound, Collie and Hare original artwork and mugs photos courtesy and copyright of Alison Jenkins (digital decals on Balmoral mugs). See www.facebook.com/Alisons-Animal-Artwork
Contact details

You can contact me for details, prices, etc at:
Eileen Hallam Ltd
110 Weston Rd, Meir, Stoke-on-Trent
Staffordshire, ST3 6AL, United Kingdom
Tel:
(from UK) 07788 546 441 / (from overseas) +44 7788 546 441
E-mail:
eileen@eileenhallam.co.uk
Skype:
eileen.hallam
Company no:
08021336