Ceramic Supplies - ceramic transfers, organic transfers for candles, white bone china, ceramic colours, decorating machinery
Enquiries:
Tel:
(from UK) 07788 546 441 / (from overseas) +44 7788 546 441
E-mail:
eileen@eileenhallam.co.uk
With 29 years' experience in the ceramic supplies industry, based in Stoke-on-Trent, Eileen Hallam represents several manufacturers of ceramic colours and ceramic decals (both digital and screenprinted, organic and non-organic, and also reel-to-reel decals) in Stoke-on-Trent, as well as in the Far East. Also, digital ceramic printers, ceramic toner and ceramic decal paper. If you are looking for decoration materials for the ceramic industry, you have come to the right site. Decorating machinery is also available, and she can also help you to source kilns, refractories, etc. Call her or e-mail her to discuss your requirements!
Unless otherwise stated, the products on this site can be despatched almost anywhere in the world.
If you wish to add traditional ceramic gifts to your personalised gift range, please contact us. Eileen Hallam operates on all levels with this:
1. Finished mugs, plates, etc with your artwork, including 1-offs.
2. Digital ceramic decals (no halo round the image) for you to decorate your ware yourself
3. Digital ceramic printers (no halo round the image) for you to print your own ceramic decals and decorate your ware yourself
4. White bone china / white ware for you to decorate with your own decals or handpainting, etc.
5. Ceramic kilns for you to fire your decorated ware.
Eileen Hallam represents 4 manufacturers of UK-made whiteware (white bone china), ready to decorate - thimbles, mugs, trinket dishes, etc, and an importer of white bone china mugs from China. **New for 2016** - dog and cat bowls. For more information, please contact us.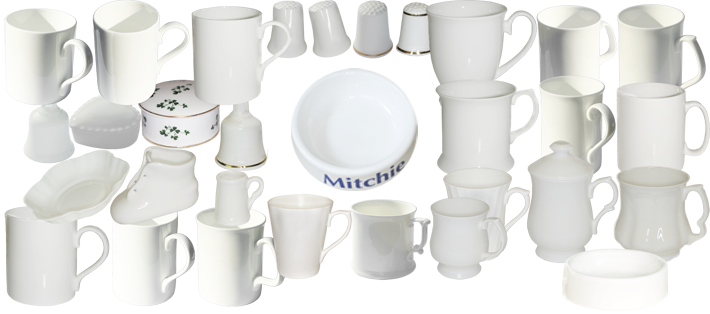 She also now offers bulk quantities of organic decals for candles (no heavy metals, very wide range of colours). For more information, please contact us.
Finished candles courtesy of, and copyright of, Kotimo Design - Finland
In some markets, she also offers c
admium pigment
suitable as red, yellow or orange colouring oxides for
colouring vitreous enamel
, eg for red saucepans. A range of other colours is also available. For more information, please
contact us
.

She also advises on and sells equipment and machinery used in the decoration of ceramics - kilns, digital printers, decal-application equipment, etc. For more information, please
contact us
.

New for 2014 - for gardens and also as decorative pieces for floristry displays, garden centres, offices, modern homes, character homes, interior design, conservatories, etc. Now guaranteed 100% waterproof and frostproof down to -10°C
Eileen now represents a Portuguese manufacturer with a large range of beautiful terracotta planters at excellent prices, lovingly made in Portugal, available for bulk purchases. A vast variety of items, shapes, sizes, finishes and colours. Special shapes and colours can be created to the customer's specifications. Available with traditional ceramic glaze or cold-painted & varnished. All shapes are available in all colours and textures, glazed or varnished, matt or glossy.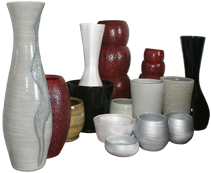 If you would like to receive catalogues, prices, samples, etc, please get in touch. Her intention is eventually to have a wider selection of products. She does not import or export in her own right ? the companies which she represents handle the despatch, payment and invoicing, leaving her free to focus on looking after your requirements.
You can write to her in the following languages: English, French, German, Spanish or Italian. (She also speaks Russian, but cannot, unfortunately, type in Russian.)